The Witcher is a Polish-US television series released on December 20, 2019 on the Netflix streaming platform. Created by Lauren Schmidt Hissrich, the series is based on the Geralt of Rivia saga author Andrzej Sapkowski. If you have already read the our introduction to the world of the series, then it's a good time to talk about the season.
Plot of "The Witcher"
The series follows three timelines until they gradually merge into the only reality present. Recalling the narrative structure of the first three books of the saga, in the form of short stories, the episodes deal with self-contained adventures with a single underlying plot.
The first timeline is that of the protagonist of the series, the witcher Geralt of Rivia, and follows his misadventures as a killer. His friendship with the unknown poet Ranuncolo and his love for the sorceress Yennefer will lead him to exceptional events which, in one way or another, will shape his destiny.
The second timeline follows the sorceress Yennefer, with an absolutely innovative and unexplored presentation of the character in the books. Combining the very few dots present on the past of the curly-haired woman and the scent of lilac and gooseberry, the series offers us her childhood as a malformed person until the arrival and training in Aretuza.
The last and shorter timeline follows the young Ciri, fleeing from Cintra after his invasion by Nilfgaard's troops. The little girl will have to find a way to escape from the troops in black, find out more about her fate, get to safety and maybe finally find Geralt of Rivia.
Characters and performers of "The Witcher"
Geralt of Rivia
Played by a highly promoted Henry Cavill, who has insisted in every way to take the role of the witcher, Geralt is a mutant who fights monsters. He is convinced that people like him have lost the ability to experience emotions, both positive and negative, and this leads him to close his heart and make it hard as stone. He tends to become attached to people very slowly and, even if he does, the relationship with them becomes very complicated because of his life.
Geralt has monstrous features, like cat eyes and gray hair, due to the evidence of herbs. One of the first steps to becoming a witcher as a child is to survive the highest possible dose of poisons. Just under one in three children can pass this test. Geralt did not react very well and his hair is a direct demonstration of it.
Geralt is one of the few witchers to still believe in a sort of moral code, absolutely unnecessary, which very often will lead him to get into trouble. The witcher is neutral in political games, tries not to take a life where avoidable and usually does not hunt sentient species.
Henry Cavill gave his all for this character. Some even described his performance as "Cavill remembered he could act". It is certainly impossible not to praise his dedication to this role. The actor halved his compensation in order to have a good chance of getting it. Not limited to this, he refused to have a stuntman for the most excited scenes, choosing instead to take fencing lessons himself. Cavill is a huge fan of video games and books and this re-reads, if nothing else, about the way he decided to represent Geralt.
Yennefer of Vengerberg
Yennefer was a real surprise for all viewers of "The Witcher". Instead of introducing her in the episode "The last wish" as in the books, presenting a beautiful sorceress, sure of herself and her path, she has been presented to us since her childhood. This obviously leads to observe a character in continuous evolution (perhaps even too much) because of the very long time span covered by its history. Yennefer sacrifices everything just to feel loved, desired and less alone. Unfortunately, getting what he wants at a very high price, he discovers in the following thirty years how much being desired only for one's body and one's status is not as he had hoped for. At this point, with an incredible change in his life, he almost completely abandoned politics in favor of his search for a way to be a mother.
Yennefer is a highly individualistic character, willing to sacrifice anything in order to achieve his goals. His main turning point will be the meeting with Geralt, who will set in motion a series of events that will bring the hearts of both to open up for each other.
Anya Chalotra has done an excellent job with this character, in constant change and never banal, even in scenes where it would not have been necessary. It is news of the last few days how he insisted on shooting his nude scenes, stating that no other person should have played Yennefer except her. Despite the good work done, I confess that I would have liked to see the sorceress represented with a different face. Although Anya is a good actress, I needed a face that showed more years. Although Yennefer magically always looks the same age, we are talking about a person who shows himself as a woman, not a girl.
Ciri of Cintra
One of my biggest fears for this series was the possibility that the actress was wrong for Ciri. Without too many spoilers, if the production were to remain as faithful as possible to the stories and books, soon Ciri would have the undisputed starring role. Getting the actress wrong in this embryonic stage of her character would have led to disaster later on. Fortunately, the stage rendition is exactly what he had to give. Ciri, played by Freya Allan, is a princess who sees her world collapsing on her. Raised without her parents in the care of her grandmother, a queen capable of making the whole world tremble, she will be torn from her home and forced to live in poverty until her meeting with Geralt of Rivia. Ciri knows very well that this man, who obviously does not know, will be very important for her. The law of surprise has tied their fate and, whatever happens, the two will always be destined to meet again.
Buttercup
The great narrator of Geralt of Rivia's adventures was another troubling character. Always, Ranuncolo appears almost like a speck in stories, often and willingly getting into trouble or driving out the witcher. To play a hedonistic, at times foolish and vain character without making it ridiculous was an arduous challenge. I think Joey Batey has passed the test to the best of his ability.
Ranuncolo is a minstrel, writer and composer of the Northern Kingdoms. He is a multi-graduate from the Oxenfurt Academy with a reputation as an "idiot and lazy" who quickly rose to prominence thanks to his compositions on Geralt and Cintra. Having to define it better, I will use the words of the good Dijkstra "You are about forty, you look thirty, imagine that you are just over twenty and you act as if you do not even have ten."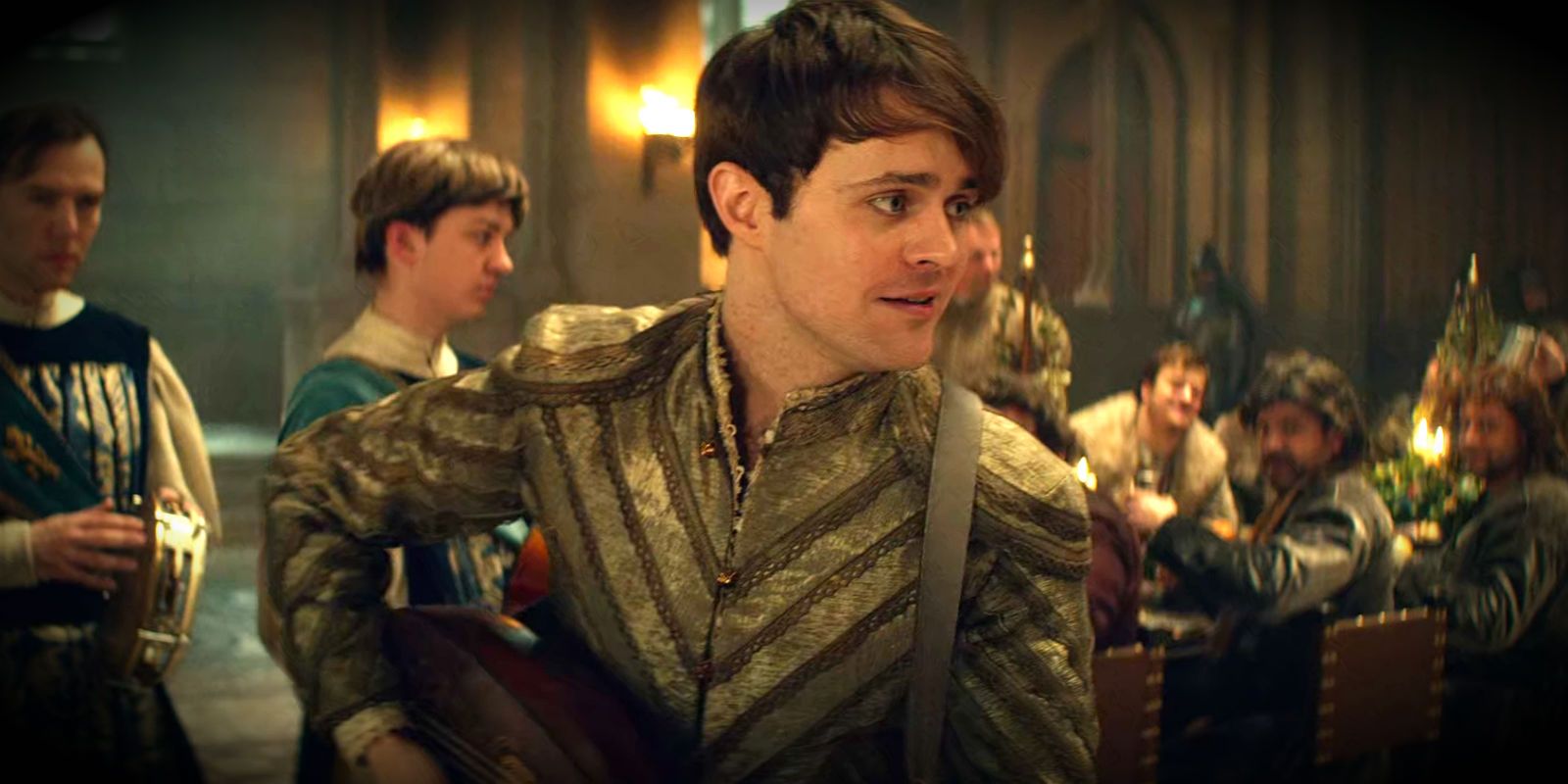 Technical Aspect of "The Witcher"
Video game fans will be greatly affected by the series' musical themes, which wink at both the Slavic culture and the ost of "The Witcher 3". To these is added a song, composed by Ranuncolo su Geralt, which is depopulating not only in the Northern Kingdoms but all over the world. The English version of the song "Toss a coin to your Witcher" has impressed many by the simple fact that, at all times, it is found in the background somewhere in their mind.
The photography in this series is one of the things that impressed me most. There is a search for both the mood of video games and the surprise of the viewer's imagination. The settings chosen are truly fantastic and, in many respects, leave the viewer breathless.
CGI is unfortunately a sore point that leaves many thrilled. Where Geralt should face fearsome creatures, rich in details and well defined, the witcher instead confronts something insufficient. We don't know if for budgetary reasons or for timing this fundamental part was done superficially but I hope that in the second season there will be leaps forward.
The editing of the series had the difficult task of telling three stories, spread over three very different eras. It was undoubtedly a bold choice and, if the more attentive spectators had no problems following the events, some could have been in difficulty. Unfortunately, since there is no official dating of the events or a precise chronology, it is impossible to help the viewer.
The series that many have been waiting for
"The Witcher" is a series that will make fans of the Rivia witcher and those who love dirty and brutal fantasy fall in love. Although it is not a perfect series, the passion shown for a European title, niche until the arrival of video games, has surprised many. The world created by the Polish author, regardless of what you think of his questionable behaviors and ideas, is truly fascinating and will capture far more than just a spectator inside. For those who want more, in addition to indicating that the first book in the series is available in audiobook format on Audible, we refer to our role-playing game review table and our little girl campaign.