Final Fantasy Ultimania Archive is a series of summaries, currently composed of three volumes, which cover the first fourteen games of the series. Similar volumes have been released in Japan for over twenty years but, with the advent of the twenty-five years of the series, a single edition has been created, composed precisely of the three volumes. The edition was written by the BentStuff studio (which has been writing the Ultimania since 99) and was edited by Square Enix.
Yoshitaka Amano always remains a feast for the eyes
The first thing you can notice, even just looking at the book covers, is the beauty of Yoshitaka Amano's works. The three volumes are in fact rich in his illustrations, which follow the covers and main characters of all the games in the series. Many of these original illustrations and covers were never released in the West and were not admirable on paper. The particular style of Amano still pushes us to ask ourselves when the Square Enix will want to fully embrace the author's imagination, abandoning the western ambitions of realistic graphics.
Find out more about the games you love
In addition to pages of data and concepts about the individual characters, including scenes in the game in which they are inserted, Final Fantasy Ultimania Archive also includes complete maps and reflections on the game world, on the creatures that compose it and on the game menus themselves. Some of you may be surprised, especially for the character part. Just to give an example, I found out to be as tall as Cloud Strife (and that's all to say). Sometimes we forget that the games are made with the eye of a Japanese team, so the measures must be interpreted in some way.
Characters and monsters like you've never seen them
As already mentioned, the volumes of Final Fantasy Ultimania Archive offer excellent explanations of the psychology of the individual characters, together with artwork, sketches and data. The same can be said of the monsters, which are portrayed in various passages before being presented in the game. The summons, which have always been the strong points of the series, are presented with some gems that it is better not to reveal.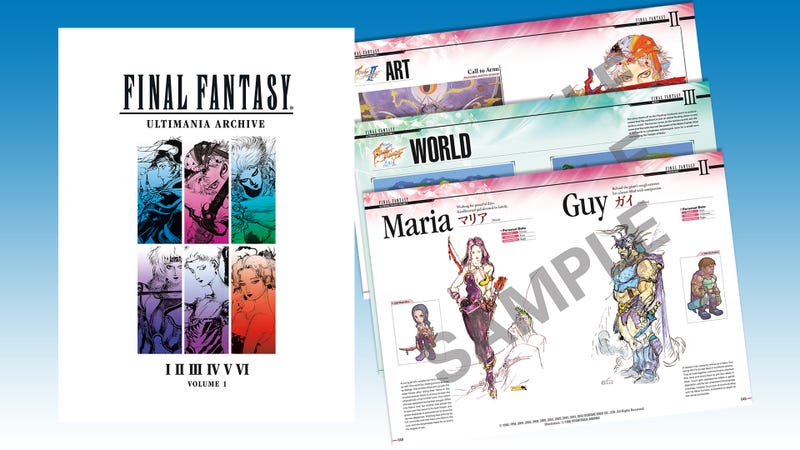 Storyboard and clipboard
It will surprise many to know that in the collection there are also some storyboards and notes dating back to the development times. Ideas for menus, maps, cutscenes and much more can be observed in a version translated from Japanese. Seeing some of Square Enix's most successful ideas summarized on a sheet of paper is a truly touching experience.
Where can they be recovered?
Currently they can be found on Amazon at these links Ultimania I, Ultimania II, Ultimania III.