Aladdin is a live-action film, written and directed by Guy Ritchie, which is inspired by the original animated film Aladdin and the Thousand and One Nights. It is part of Disney's large commercial operation in redoing all its classics with modern technologies and messages, so as to return a point of reference for the new generations. In this sense, Aladdin winks at both old and new fans but, unfortunately, occasionally stumbles in an attempt to please both.
Synopsis of Aladdin
Broadly speaking, the plot of the film does not change compared to its animated parent: Aladdin is a poor boy who lives on the streets of Agrabah, stealing to live together with his little monkey Abù. One day the young man rescues Dalia, a handmaid of the princess who has come to visit the city. A connection develops between the two but, unfortunately, she has to return to the building too early. Aladdin will do everything to see her and, in doing so, is arrested by Jafar and taken to the Cave of Wonders.
Characters of Aladdin
Aladdin
The protagonist is perhaps the person who has undergone fewer changes than the original work. Despite his good heart, he suffers the temptation of wealth and arrives to lie shamelessly not to tell Jasmine who he really is. Eventually, however, he understands his mistakes and it is thanks to his ingenuity that Jafar is defeated. Much more than in the cartoon, Aladdin in this film undergoes the touch of Guy Ritchie and turns into a parkouriante thief able to change appearance with Sherlock Holmes scenes.
It is interpreted by Mena Massoud in a masterly way. Although the young Egyptian actor was on his first blockbuster, his presence on the screen is absolutely flawless.
Jasmine
Probably the character who has been more distorted than the cartoon. In an attempt to bring new messages with this film, Guy Ritchie and Disney have well thought of transforming Jasmine from princess in danger into a pretender to the cultured and trapped throne in the political society of Agrabah. Jasmine feels like an object and several times in the film she will do everything to break these chains that would like to see her as a toy.
This idea of ​​rewriting Jasmine's character, unfortunately, is not well integrated into the story. The screenplay is thus covered with these girl power moments at the end of which the plot quietly resumes. It would have taken more courage in the script to be able to give us a Jasmine ready to become Sultan (or Sultana, boh?). After all, how can you insert moments of girl power after the classic scene in which the princess doesn't know that the bread needs to be paid for? Everything clashes terribly.
She is played by a phenomenal Naomi Scott, capable of making the audience melt with her smile, of making her cry with her eyes and of making her emotion with her voice.
The genius
We come therefore to the star of this film, or the Genius. With the presence of such a bulky actor as Will Smith, it was clear that his character would monopolize the scene on several occasions. Indeed uniting the genius, a being by its very nature over the top, to Will Smith was truly brilliant. However, this character also has something new to tell in this film. A brand new love story that will quickly conquer fans, a psychological analysis of its owners and many songs that take advantage of Will Smith's singing talent.
Jafar
This Jafar will be talked about for a long time, especially on the internet where discussions of this type are depopulated. Unlike the cartoon, the personal antagonist is not old and ugly but young and attractive, with a thief's past exactly like Aladdin. Growing up on the streets, Jafar must have been sent to prison at some point in his life. After his escape he got his stick, with which he built his climb to Agrabah. He is an ambitious but by no means stupid character. It will be Aladdin's ambition and ingenuity to decree his end, since he will NOT ask to be transformed into a genius. Again, some problems arise in inserting the new Jafar with the old story. Why, using his powers, did he not make it possible to directly marry Jasmine? Probably, by pretending, he could have conquered it and be sure to make the Sultan change the law.
He is portrayed by Dutch actor Marwan Kenzari.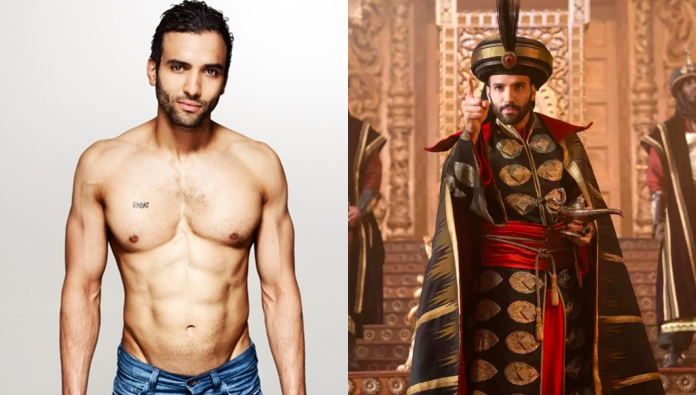 Pets
Abù, Rajah and Iago are all made in CGI in this film. Theirs is a solid and smudge-free computer graphics that gives us wonderful characters. In particular, the choice to make Iago a parrot in all respects, but which is not limited to repeating and has a developed conscience, make him a character as fearsome as pungent.
The songs of Aladdin
Being Aladdin a musical, it is necessary to deal with the topic of songs. As for Beauty and the Beast, the songs in Italian have been rewritten to better adapt to synchronization with the actors. Unfortunately these adaptations turn out to be good only where the original Italian text is taken up. The songs in English, on the other hand, strike as always for the power of the text and the music. Two tracks are added to the film, one of which is taken from Aladdin's musical, both of which are amazing.
Scenography and costumes by Aladdin
Two points of the film are, unfortunately, some sets and some characters' costumes. The choice to make Agrabah pink in some places, Jafar's plastic clothes and some Jasmine clothes bring to mind a Bollywood film. A real shame, because there is a trash drift where the film does not require it in the least. It must be said that, fortunately, the acting of the actors distracts a bit from the fact that they seem dressed in wedding favors.
Regia
We find a guy Ritchie fit for this film, after the flop on King Arthur due to his peculiar choices, even if the characteristic elements of his films return. In some places it will seem to be observing an Arabic edition Sherlock Holmes. However, it would be wrong to say that his direction was wrong and I believe that the film is conducted very well overall.
Aladdin, a film to watch
Whether you are old and timeless fans or people who have never seen the Disney classic, the opinion can only be positive. Aladdin is a good film and, if seen in its original language, it will be able to give big surprises to the spectators. The actors are perfect, the music and choreography tear smiles and melt hearts. There is room for laughter and drama. Aladdin has everything a movie about this character should have.